Thailand Real Estate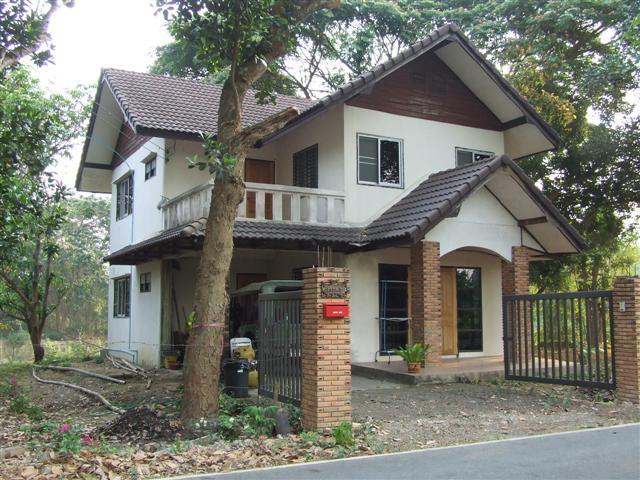 Sitting on a bend of the quiet Nong Yaeng river in the sleepy village of Toong Kow Thok (village of puffed rice). The house itself sits on a slightly raised area, placing it a few feet above the farm land which surrounds it on all sides. Northeast and above the house stands an Albizia or Silk tree spreading it's vast shade giving canopy over much of the house and surrounding land. The nearest neighbor, across the street, maintains his trimmed hedges and orchards with a keen eye on neatness while the only other neighbor in the vicinity is a congenial rice, potato and bean farming couple who always offers a cheerful smile and wave.
The house itself, due to the heavy concrete post and beam construction, has considerable thermal mass. Essentially this equates to it staying warm and cozy during the cool winter months and cool during the sometimes sweltering days of summer. Originally designed with four bedrooms and two bathrooms, the dividing wall between the two northern rooms upstairs was never built, thus giving a spacious master bedroom. And windows! Windows in every wall in the house, each offering its own view of the pastoral countryside in all directions. All the windows, which are all new, open, offering all the ventilation one could ask for.
Downstairs the floor is white gloss ceramic tile and the staircase and upstairs is teak parquet flooring.
---
For further information or inspection please call Yunee on mobile: 081 033 2091
Outside of Thailand: please add the international area code 066.
Or Email: yunee@condos.thailandescape.info